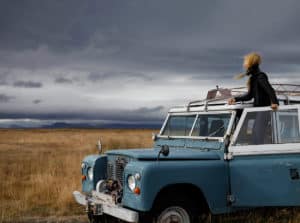 BY MICHELLE THOMAS
---
I spend a large part of my life trying to get lost because getting lost is truly how I find myself.  Lost in creativity. Lost in movement.  Lost in nature. When you are lost, you can't help but be present, intuitive, and conscious.
I recently got lost in Iceland.
Innsæi is the Icelandic word for intuition or to see within. When you use your intuition and just go with what your heart or inner mind is telling you, you are always exactly where you should be at that moment. When you take the time to notice every living thing around you, life has real meaning.
We had planned our nine day trip to Iceland (Ísland), not every single little detail, but more than we had ever planned a trip before. We spent a month researching locations and mapping out our route around the golden circle and ring road with photos of breathtaking waterfalls (foss) and majestic hiking trails (gönguferðir). Booked the camper, making sure it had all the luxuries like wifi, a mini fridge, bed, sleeping bags and of course a heater (heitt). We packed a backpack with two Canon DSLR cameras, phone & extra camera batteries chargers, 64mp video cards, a car plug for my laptop, and an extra hard drive for the 5,461 CR2 image files we took. A suitcase with several layers of clothing three pairs of shoes and of course several pairs of yoga pants.
Everything went exactly the way we had planned (aside from the Icelandic traffic jam,) but my intuition dislikes the thought of planning anything. My inner self is all about breaking free from constraints and just finding my way not knowing where exactly the road is taking me. But hey we were off to Iceland for a nine-day Origin Agency inspiration adventure, to an isolated land where I'd heard there weren't a ton of rest stop options (lies all lies there are plenty of luxuries around the ring road to satisfy even the finickiest of travelers).
DAY ONE –  Reykjavik + The Blue Lagoon
Soaking It In.
Our first stop was Reykjavik where we found a parking garage and took a 2-hour jetlag nap then we explored the city for a couple of hours trying on $800 winter jackets and eating a $60 breakfast of fried eggs, toast and bacon. Then we were off to The Blue Lagoon, a literal hot spot for all tourists traveling to Iceland, where you relax & soak in heated blár (blue) silica filled waters.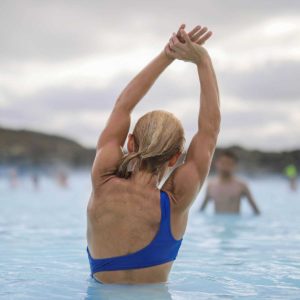 DAY TWO – Crater Kerið + Geiser hot springs + Gullfoss + Sheep
The Golden Circle
In the morning we headed to Gullfoss a massive waterfall north of the ring road. Along the way, we checked out at a volcano crater Kerið and were caught off guard by a Geiser hot springs explosion.
On our way to the next waterfall, we encountered fields full of pink, blue, green and white haybale marshmallows, rolling hills and rushing rivers (áin), flowy maned Icelandic horses (hestur), and sheep (sauðfé). Thousands of sheep being herded back home for the evening creating an "Icelandic traffic jam."
These are the moments where you stop and enjoy the traffic jam. You baaaaaaaaah and laugh at the sheep, the world is saying "hey you already did several amazing things today, so just stop already and be lost in the moment."

DAY THREE – Seljalandsfoss + Gljufrabrui + Seljavallalaug Swimming Pool
Waking Up Next to Six Waterfalls. Hell Yeah!
The morning air was hazy and a bit chilly, but when you are exploring and experiencing the breath giving nature of  Seljalandsfoss + Gljufrabrui, you don't care. It's like childhood when we were cool with sleeping on the floor and pain didn't exist if there was fun to be had. We climbed and ran and hiked and got soaked as we traversed through crevices and perched atop rocks 200m above waterfalls. There were no signs, no marked trails, just small paths to walk and explore. Steadily finding you holds and footing along the way requires presence and intuition.
Next, we were off to Seljavallalaug Pool, one of the oldest hidden pools in Iceland. You trek about .5 miles to  Seljavallalaug which is built into the mountain of a slender valley and gathers trickling warmish water down from Eyjafjallajökull.
The pool was enchanting, but the even more interesting part of this journey was the hike behind the pool. Walking a narrow path up the side of the shallow cloud covered mossy mountains was otherworldly. I pictured massive dinosaurs wandering through the canyon. It was truly a Jurassic experience.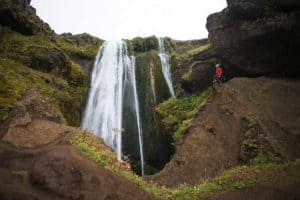 DAY FOUR – Skaftafell National Park
So Lush!
The flora (gróður,) fauna (dýralíf,) & groundcover in Iceland is like nothing we'd ever experienced. At any moment you could just lay down in the softest bed of moss, greenery, and flowers for a nap. We descended down a steep hill to find an astonishing valley. Gazing at earth's splendor, we were present.
Next, we trekked up a paved path to see two massive waterfalls (Hundafoss + Skaftafell)  Then for 8 miles we walked a remote, narrow secluded amazing & colorful path with wooden plank bridges and trickling waterfalls. In the far distance, you see Skaftafellsjökull where much the glacier (Jökull) had retreated. It was like night and day, super lush alongside a charcoal mountain and expansive, barren flat plain.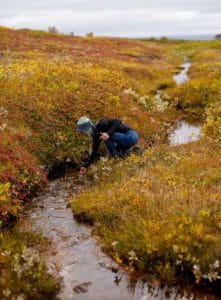 DAY FIVE – Jokulsarlon Glacier + Höfn Public Pool
Iceberg Iceberg Baby (ís ís elskan)
Jokulsarlon Glacier was extraordinary. The icebergs ascended from frosty waters. We put on our rain jackets and ran to the beach to examine glassy chunks of ice that had washed onto the black sand coast. Climbing under the iceberg, the water rushed up from the tide to soak my feet. Nonetheless, this was a quick stop.
Off to Höfn a small fishing (veiði) town about one-third the way around Iceland for camping. We noticed a public swimming pool (sundlaug) and learned that Icelanders love to swim and most towns have heated swimming pools! Getting lost like an Icelander.
DAY SIX – Eastern Region to Eider
This day we had no plans aside from where we were going to lay our heads. We stopped to watch the ocean pound the Fjords. We followed a caravan of bad ass SUVs; and found several unnamed mountainside waterfalls formed of crumbling Rhyolite. We hiked miles in the rain. We were wet and lost and still laughing.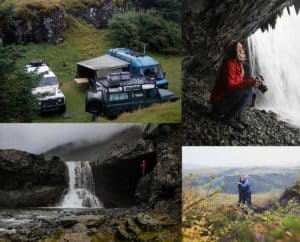 DAY SEVEN – Jökulsárgljúfur National Park
Waterfall! Waterfall! Waterfall! Waterfall! Waterfall!
The 2.5-hour drive Eider to Jökulsárgljúfur was possibly the most interesting regarding how different every single moment was. This is what I mean about getting lost. Taking time to stop and explore leaves room for serendipity.
We first encountered a towering roadside waterfall. We traversed the river rocks to cross to the side where we slogged up the side of the waterfall to a tiny ledge 100 feet above the base. We felt one with nature. It was unimaginable.  Next, we stopped at an insanely windy barren black glacial trough where our doors almost flew off our car. Off to Jökulsárgljúfur we noticed abandoned vintage Land Rovers in a field. Did someone say photo op? The road to Dedifoss, the most powerfull waterfall in Iceland, was 27k of unpaved potholes. Worth it! You could walk right up to the edge of the waterfall. There weren't many tourists and there was no fencing whatsoever. It was rad! Then we hiked back further about a mile to about a 30 waterfall cliff. CRAZY!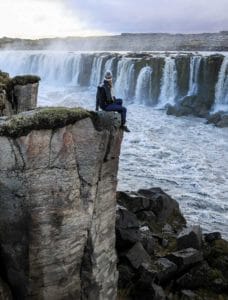 DAY EIGHT – Volcano Hike + Goðafoss + Aurora Borealis
Chasing Waterfalls & Rainbows
This was the warmest day; it felt almost hot at 53 degrees. As we started out, we decided we needed to brew some roadside coffee with our mini camper stove and found a pullover. Hey, there's a volcano right there, Let's get lost! We packed our SoiLL backpack with provisions and headed out to encounter a gorgeous flowery moss covered trail with gnat filled caves. We marched up the volcano trail in awe of the beauty below.
One of the only completely sunny days we had Goðafoss was colorful and bright with rainbows. We played by the cascading water's edge and espied a gathering of Rock Ptarmigan birds.
This was our last night to encounter the so far elusive Aurora Borealis. We had checked the aurora forecast, and they had given it a one on the scale of 1-9, so we weren't super hopeful and just went to bed. I woke up in the middle of the night and looked out the window to see a subtle glowing cloud which I later found out was it! YEA!! http://en.vedur.is/weather/forecasts/aurora/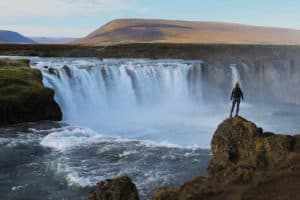 DAY NINE – Road to Reykjavik
Lose Yourself to Find Yourself.
The final bit of road to Reykjavik was a time for reflection. This was a long, eventful, learning, inspiring, conscious and collaborative trip. Similar to building Origin with my incredible partners and crew. We have a plan, but make it a loose plan. We don't get bogged down in what ifs. We let go of rigid expectations. We are open to exploring and innovation. We seek, play, discover, laugh & learn from each other. We care about our work our clients and ourselves. We sometimes make ourselves get lost, (glataður) because that's right where we need to be at that moment.